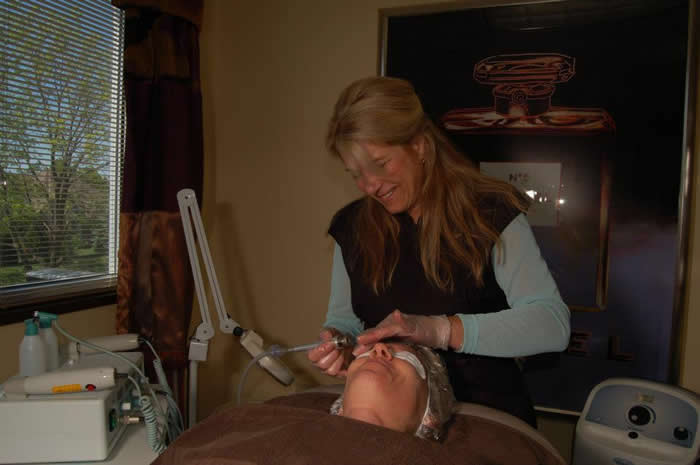 The Mequon Thiensville School of Esthetics is under the leadership of Gail Lerman.  Gail is highly regarded and has been a successful professional in skin care since 1992. She currently teaches and has clientele.
She wanted to help people.
Gail started out in the business world but made a life shift to do skin care because she wanted to help people. She packed her bags and went to Miami to jump start her new career. After hours and hours of seminars, trade shows, reading trade magazines and traveling, she opened Skin Alive Skin Care Salon.
Gail had great success with her skin care salon in a short period of time, and realized she could do more to open the field of skin care.  In the early  '90's there were very few if any "real estheticians" or schools. Gail decided to earn her license to become an instructor and then opened the Mequon Thiensville School of Esthetics so others could train in this field.
She knows skin.
Gail believes in learning cutting edge techniques and is at the forefront as the leader in the industry constantly pushing for new information. Having worked as an independent contractor for physicians, she is able to bring her medical experience to the classroom. Her classroom includes textbook instruction, along with her 34 years of experience with clientele, handouts, guest speakers and the school's clientele provides hands-on training, which makes the program well-rounded.
Gail encourages prospective students to inquire about experience when applying to any school.  Quality instruction, not distance should be a deciding factor when selecting a school. She encourages looking for an instructor with years of clinical experience and to ask questions such as, how long have you been teaching, do you have your own clientele and does your school have plenty of clients to practice on.
Gail cares.
She believes in training the students in all aspects of the spa industry so they are experienced and ready for employment. The school has a tremendous amount of clientele providing hands-on training for students. She incorporates interactive learning to help students retain the information in a way that accommodates each student's learning style while giving enough individual attention for them to flourish. This is why Mequon Thiensville School of Esthetics is the leading beauty school in the Milwaukee area!
Student Success.
Gail truly cares about her student's outcome as estheticians and it is quite evident when her students communicate their success. Eighty percent of students open their own salon after acquiring their esthetician license.  The remainder of her students find employment working with a plastic surgeon, a dermatologist, medi spas or full service salons.
Ready and able.
Gail is certified to teach students to become instructors if they want to go that route. Gail says, "the majority of my students open up their own salon because they leave with so much knowledge,  I believe in getting them educated in all aspects of the business."